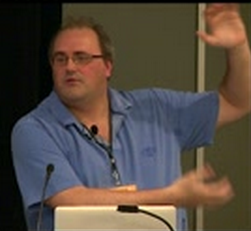 Have you registered for CppCon 2015 in September? Don't delay – Early Bird registration is open now.
While we wait for this year's event, we're featuring videos of some of the 100+ talks from CppCon 2014 for you to enjoy. Here is today's feature:
What the committee did next!

by Alisdair Meredith
Summary of the talk:
Now that C++14 is done, what is the standard committee working on next?

After inking 8 years to produce the C++11 standard (arguably 13) there was a feeling we should be able to produce new work faster, more incrementally. With the renewed interest in C++, we have more participation on the committee, and have looked to harness that enthusiasm in new ways. In the last 3 years we have spun up at least a dozen new study groups, and have 8 or mode Technical Specifications in various stages of development that we hope to ship over the next 12-24 months. So what are all these new groups and specifications about? Come to this session and get a vision of where C++ is headed in the immediate and short-term future.