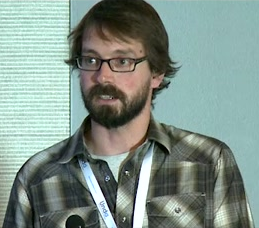 Have you registered for CppCon 2015 in September? Don't delay – Registration is open now.
While we wait for this year's event, we're featuring videos of some of the 100+ talks from CppCon 2014 for you to enjoy. Here is today's feature:
Using C++ to Connect to Web Services

by Steve Gates
Summary of the talk:
Many languages have great support for connecting to web services. Trying to connect C++ applications to the cloud is difficult. The C++ standard library doesn't contain anything for networking (yet), and with the proliferation of devices, being able to do so in a cross platform manner is even more appealing. Often requiring use of multiple different styled, and potentially low level, libraries where asynchrony wasn't designed from the start. Or by building your own abstract layers over platform and operating system APIs, all of which distract from focusing on the core logic of your application.

The C++ REST SDK makes connecting to services easier by creating APIs focused on simplicity and asynchrony, built using tasks from the Parallel Patterns Library. This is done by putting together a series of cross platform libraries for working with HTTP, WebSockets, JSON, URIs, and OAuth. In many cases building on top of other popular open source libraries like Boost, OpenSSL, and WebSocket++. This talk will take a practical approach looking at what is involved in connecting to some of the common popular services from C++, using the C++ REST SDK and other libraries. Several tutorial style example and demos will be done using C++ code that runs on all the major platforms.