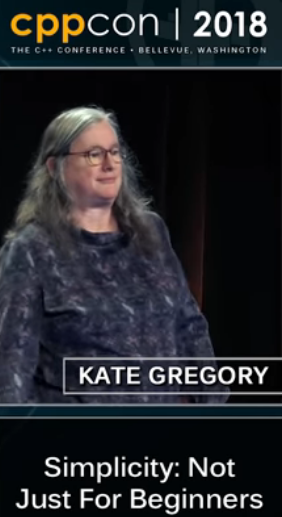 The CppCon 2018 Wednesday keynote is now on YouTube:
by Kate Gregory
Kate Gregory has been using C++ since before Microsoft had a C++ compiler. She writes, mentors, codes, and leads projects, in both C++ and .NET, especially for Windows. Kate is a Microsoft Regional Director, a Visual C++ MVP, has written over a dozen books, and speaks at conferences and user groups around the world. Kate develops courses on C++, Visual Studio, and Windows programming for Pluralsight.
From the description:
Many people say that simple code is better code, but fewer put it into practice. In this talk I'll spend a little time on why simpler is better, and why we resist simplicity. Then I'll provide some specific approaches that are likely to make your code simpler, and discuss what you need to know and do in order to consistently write simpler code and reap the benefits of that simplicity.