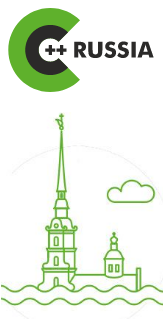 Keynotes by Jon Kalb, Andrei Alexandrescu, Daveed Vandevoorde, talks by Herb Sutter, Dietmar Kühl, Arno Schödl and others, workshops by Rainer Grimm and Ivan Čukić.
Saint-Petersburg, Russia, 19-20 April
From the announcement:
C++ Russia with bliny and matryoshkas! With great guests from around the world for two days. The conference is for experienced developers!