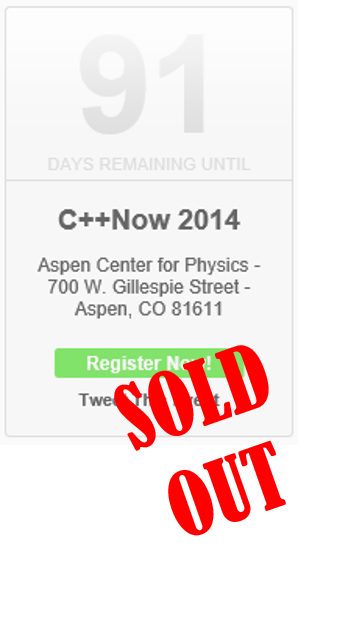 As interest in C++ keeps rising, there are more C++ events but they are also selling out faster. C++ Now 2013, Going Native 2013, and C++ and Beyond 2013 all sold out, some six months before the event.
Now C++ Now 2014 has sold out faster than last year -- this time it sold out in less than a month since registration opened, with over three months left to go.
The good news: You can still register to get on the waiting list, and if you act now there's a good chance you can still get a seat. Each year there will be some number of cancellations, and the organizers expect to be able to take a number of people on the waiting list.
If you have not yet registered for C++ Now 2014 but are interested in potentially going, even if you're not certain yet you should join the waiting list today to get in the queue for a chance to sign up for the last few seats that will open up!
If you missed registering for C++ Now and don't make the waiting list, don't despair -- there will be additional major C++ events around the world later this year. Watch for upcoming announcements here on isocpp.org. Stay tuned...