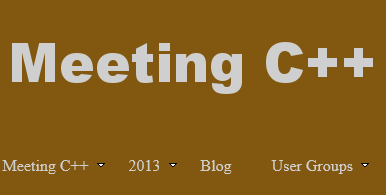 The complete schedule has now been posted for the Meeting C++ conference to be held on November 8-9 in Düsseldorf, Germany.
The conference includes talks by ISO C++ standards committee members like Eric Niebler, Peter Sommearlad, Peter Gottschling, and more. Here are a just a few highlights:
Keynote: C++11 and No-Compromise Library Design (

Eric Niebler)

Simpler Code through C++11 (Peter Sommerlad)

Scaling with C++11 (

Edouard Alligand)

Modern C++ Network Programming (

Glyn Matthews)

UI prototyping and development for multiple devices in C++ (

John Thomas)

C++1y: Concepts Lite (

Peter Sommerlad)
See the announcement for additional interesting talks.