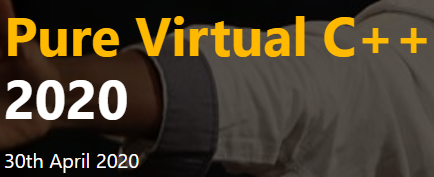 Reminder: In less than 24 hours, we'll have a worldwide C++ event:
by Sy Brand
From the post:
Pure Virtual C++ 2020 is a free single-track one-day virtual conference for the whole C++ community. It is taking place on Thursday 30th April 2020 from 14:30 to 23:00 UTC. Sign up on the event website.

All talks will be pre-recorded and streamed on YouTube Live with a live Q&A session with the speakers. After the event, the talks will be available to watch online for free.