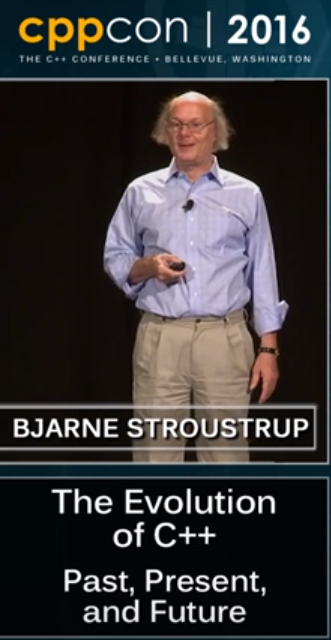 CppCon is in full swing, and once again all the sessions, panels, and lightning talks are being professionally recorded and will be available online -- about a month after the conference, because it takes time to process over 100 talks!
However, because of the importance of Bjarne's open keynote announcements on Monday, the team has pulled out the stops to process his video and get it up on YouTube (and maybe soon also Channel 9 for areas where YouTube is not available). It's there now, so if you couldn't be at CppCon on Monday in person, check it out:
by Bjarne Stroustrup, CppCon 2016 opening keynote
Summary of the talk:
This is a philosophical talk. It deals with ideals, aims, and ways of approximating those. It deals with practical constraints and risks. It gives short examples. It presents a perspective of what drives the evolution of C++. What is C++ and what it must become over the next years for its success to continue? This involves both social and technical points. Towards the end, I discuss the direction of C++ future evolution, give some opinions, point to urgently needed new features, and discuss how to manage until they are part of the standard.