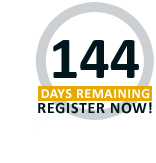 If you've been thinking of registering for CppCon, you can save by doing it in the next couple of days. Over at CppCon.org, Boris Kolpackov reports:
In the past couple of weeks a lot of C++ enthusiasts have registered for CppCon 2014 and as a result we only have about 20 super early bird entries left. If you are planning to attend, this is your last chance to register at the most affordable price.
After the limited Super Early Bird is full, Early Bird registration will be available until the end of June. Student registrations are also available at a heavily subsidized rate to ensure students can take advantage of the program.
See also the Call For Submissions to see the kinds of topics that you can expect to see covered.